Based on Ricardo Casal's sales history and fame, his point's value before the pandemic was $150. However, due to the COVID-19 pandemic, a 30% drop in value is applicable following international art market prices.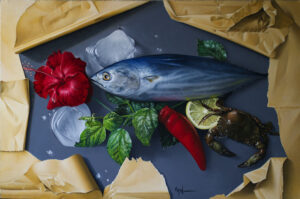 This painting, "Bodboron Fish", was painted in a 50x75cm canvas, which is the equivalent of 20 points in international measurement.
Therefor, the price of "Bodburon Fish" since 2020 is 120,000 PHP, calculated as 30% discount.
However, there are several other factors that affect the price…
As we mentioned before, when determining the price of art, we consider the artist's sales history, fame, and the cost of living in his location of production.
The last consideration can significantly impact the price. Producing in Paris, New York of Cebu City is very different.
For all inquiries, please contact Ricardo Casal by clicking on the links below. Note that Ricardo Casal is currently accepting only 10 students per week.